The Primary section of Jasudben ML School was started in 1979 by Dr. Madhuri Shah as 'Bloomingdales'. Our first Principal, Mrs. Kishori Mehta, was a visionary who built an impressive reputation for the school by appointing the best staff and employing the latest teaching techniques. The school was able to turn our young learners into smart, cosmopolitan students. In the years to come, we followed the path set by her.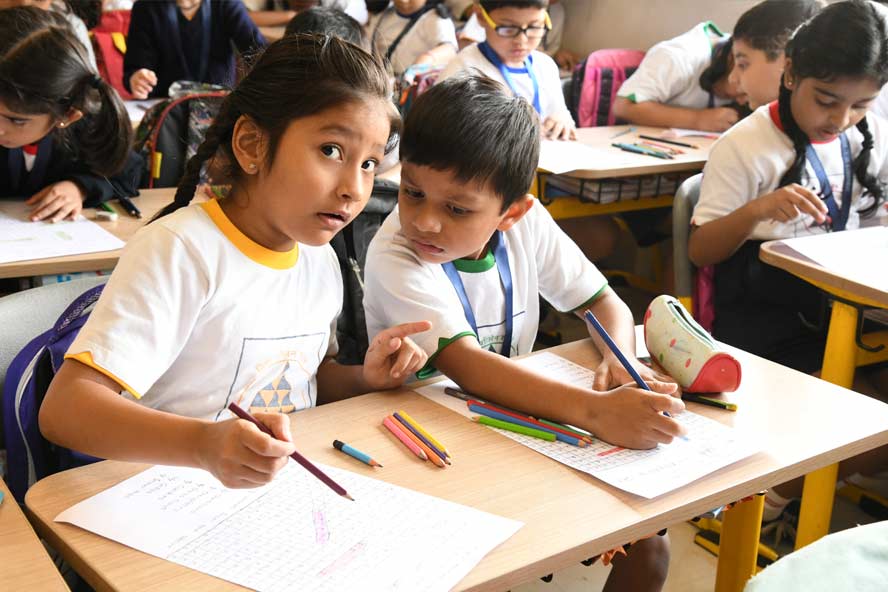 ABOUT THE CURRICULUM
The curriculum at Jasudben M. L. School follows the exciting and dynamic syllabus set by the CISCE Board, New Delhi. It incorporates elements of academic interests that cater to the requirements of education in the 21st Century.
The curriculum inspires the children to make a commitment to excellence and contribute towards building a humane, just, and multicultural society. This strong foundation set in the primary years plays a vital role in building lifelong learning competencies in the students.
The school follows the CCE (Continuous and Comprehensive Evaluation] system. The assessments are broadly classified as SA (Summative Assessment) and FA (Formative Assessment).
SALIENT FEATURES OF THE CURRICULUM
THEME BASED
Our curriculum is theme-based rather than topical, which encourages the development of life skills. We believe in giving "Direct Experience" through a variety of teaching methods and strategies, to encourage learning and to create a comfortable educational setting for children.
CHILD CENTERED
Our approach to the curriculum is 'Child-centered', which is designed to develop the individual and social qualities of a child. We leverage the children's interests and empower them to play an active role in their learning by exploring the world.
TRAINING METHODOLOGY
Recognising the fact that each child has a unique way of learning, our curriculum blends a variety of learning styles such as interactive or participative method, demonstrative method, brainstorming, role play, and cooperative learning. We lay emphasis on learning by doing, where the children are encouraged to construct their knowledge through social interactions.
AN INTEGRATED APPROACH
Our curriculum encourages an integrated approach to teaching-learning, which enables the children to comprehend learning experiences as a unified whole and helps them see meaningful linkages within, and across subject areas. We make learning a joyful experience for all children, where they understand not only what they learn, but also link its relevance to their lives, both present, and future
LEARNING EXPERIENCES
We employ an interactive teaching-learning method, beyond textbooks, which focuses on the project method'. We use Audio-Visual aids to help increase learning and hold the children's interest. We use a variety of engaging learning strategies such as classroom discussions, field visits, hands–on experience, experimentation, model making and poster making, games, and puzzles for concept building and internalising the learning.
We also offer a wide variety of programmes and activities outside the regular curriculum to help broaden the children's learning experience. Co-curricular activities and competitions re-energise the children's minds and imagination. These activities include- Music (Indian and Western), Art and crafts, Yoga, Physical Education, Dramatics, Dance, Elocution, Games, SUPW.
We also have High-Interest Clubs for Music, Drama, Cookery, Science, Computer, and Maths.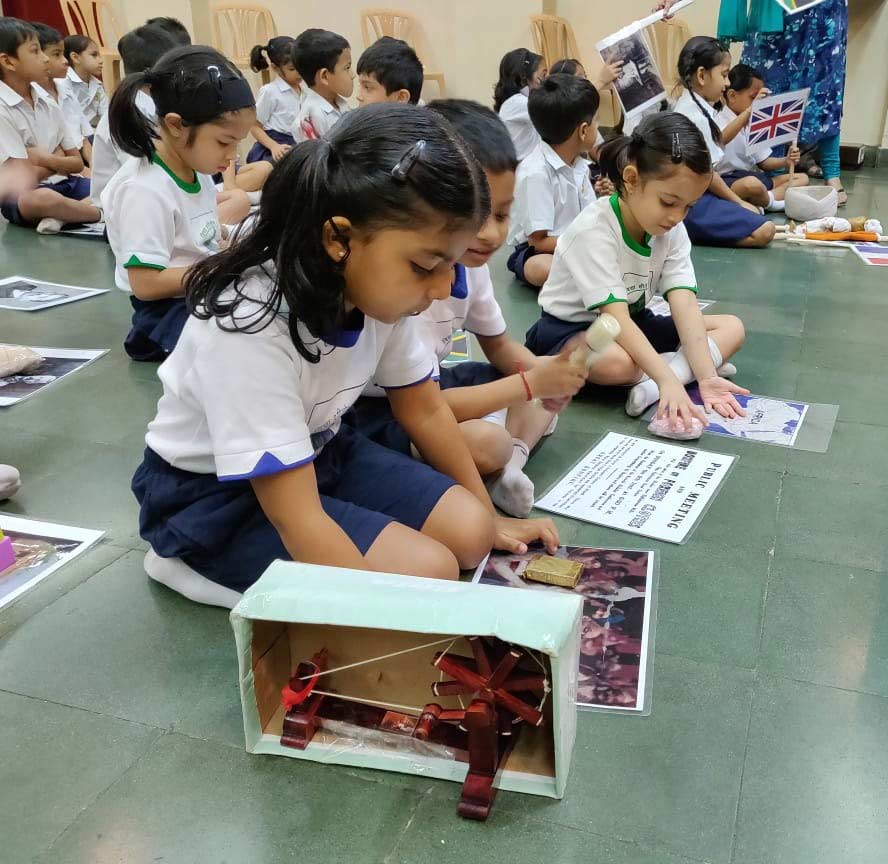 SCHOOL TIMINGS
The academic year 2021-22 begins in March 2021 and ends in February 2022.
The timings for students are: Monday to Friday – 8.20 a.m. to 2.50 pm
SUBJECTS OFFERED
English
Second Language ( any one): Hindi/Gujarati
Marathi
Mathematics
Environmental Education
Value Education
Music (Indian / Western)
Art and Craft
Yoga
Physical Education
Drama
Dance
English
Second Language ( any one) : Hindi/Gujarati
Marathi
Mathematics
Social Studies (EVS, History and Geography)
Science
Value Education
Computer Education
Physical Education
Music (Indian / Western)
Yoga
Art and Craft
Drama
Dance