ABOUT THE CURRICULUM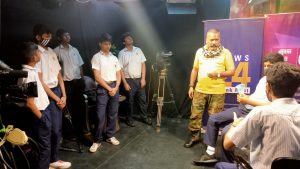 Jasudben M.L. School prepares its students for NIOS Std X and XII exams. NIOS, a Delhi-based Board that has been created to cater to the needs of a heterogeneous group of learners. Established in 1990, NIOS is an independent board, which believes in 'Sustainable inclusive learning with universal and flexible access to quality skill development'. NIOS follows its own curriculum, culminating in an examination. Successfully passing this examination provides for a certification that is on par with Std. XII passing out certificate. This is an alternative option to the formal system of education and offers opportunities to large sections of young students to be eligible for college admissions.
Jasudben M.L. School in Khar introduced NIOS for  Std. X in 2015 and for Std. XII in 2016.
JML school is one of the few institutions in Mumbai offering the NIOS system to students who are in need of an alternate system of examination.
Over the years, the NIOS section at JML school has attracted students from a host of other institutions and schools.  With a relevant and sound curriculum, the NIOS system encourages and empowers students to get on par with their peers, thereby also making them eligible for the college application process.
Eligibility for NIOS Std. X: The student must have cleared Std. VIII from a recognized school and should be completing 14 years of age by 31st July, in the academic year in which they will be appearing.
Eligibility for NIOS Std. XII: The Student must have passed Std. X from a recognized board and should be completing 15 years of age by the 31st July in the academic year in which they will be appearing.
FEATURES
UNIQUE PRESENCE
Jasudben M.L. School, Khar is the only school in the area offering NIOS for Std. X as well as Std. XII. The students of NIOS are an integral part of JML. School and participate in all its curricular and co-curricular activities.
MULTIFACETED STUDENT LIFE
The academic team for the NIOS section is headed by the very accomplished Mrs. Saktima Das, a qualified special educator, with over 18 years of experience. In addition,
the rest of the team comprises experienced and well qualified teachers who also teach in the other sections of the school. Students select subjects based on their interests, keeping in mind the academic requirement and their respective capabilities.
The NIOS students are encouraged to participate in various intra-school and inter-school activities as well as competitions. This inclusion and encouragement for them to be part of non-academic activities contributes to the holistic and all-around development of each student.r
SUBJECTS OFFERED
Std X
English (Compulsory)
Any four from the list below:
Business Studies
Home Science
Painting
Data Entry
Economics
Std XII
English (Compulsory)
Any four from the list below:
Business Studies
Mass Communication
Painting
Data Entry
EVS
SCHOOL TIMINGS
Std. IX and X Timings: 7.45 am – 1.05 pm
Std. XI and XII Timings: 10.30 am – 1.05 pm.