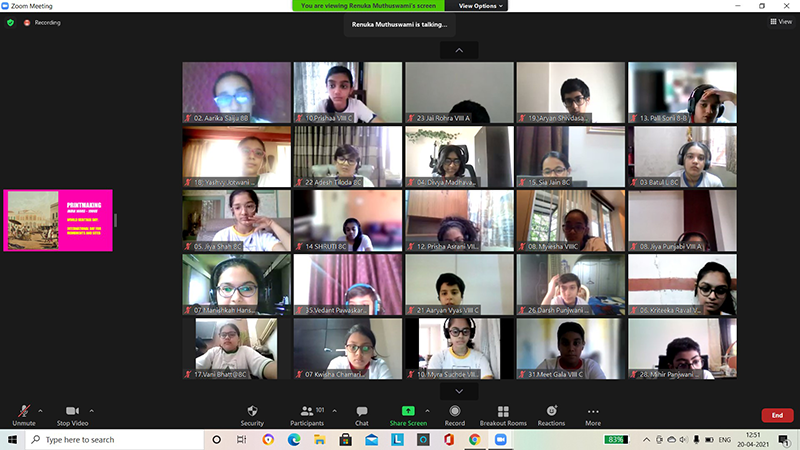 The year 2020 will be one for the history books.
We at JML School started off the academic year of 2020-21, working, learning, and teaching from home. The lessons learned have been invaluable. Innovation, creativity, commitment, empathy, and enthusiasm saw no bounds! As part of a project to reflect, share and support each other through this unpredictable and ever-evolving situation and to provide relief, the curriculum coordinators set up "Lockdown Diaries". Through art, writing, presentations, drama, and music, the JML community has been partaking in the lockdown diaries project.
This has been a truly commendable effort by one and all.
Great transition to online learning
Respected Principal, I hope this letter finds you and your amazing team of teachers in the best of health. I wanted to congratulate you on such a great transition to online learning in such a short time. I run a global company that builds software for US schools. When I compare the transition to online by JML with much better-funded schools in the US, I am just impressed as JML seems to be doing so much better. Congratulations on such an extraordinary achievement.
Best school for delivering online teaching
I would like to genuinely thank the entire team of JML for doing so well with the online teaching. Can proudly say that it has been the best school for delivering online teaching. All facilitators are doing a fantastic job. It's our honor to be a part of your esteemed school. JML has surpassed all our expectations in keeping the learning on even during the pandemic.
My compliments to all the teachers
I wanted pass on my compliments to all the teachers … they are just outstanding. My child has tests this week and being conducted so well by all teachers . Most had written off this academic year but truly inspiring example by teachers to take on the situation head on ! This is feedback from many other parents also.
Engagement with children
I've especially noticed the sheer enthusiasm with which all the teachers not just make and share videos, but also engage the children with music and dance in class. It's not easy; especially knowing that you have parents watching! Would make anyone nervous!
Great work being done
Great work being done by the teachers to adapt to the new ways of teaching and imparting learnings. They have been very understanding and supportive to the children to help them scale up while keeping them engaged in the classroom to ensure they are attentive and study well as they would in school.
Keep up the great work
The Teachers are working very hard & finding interactive ways to teach the students which is commendable…..Keep up the great work!
The class each day is well planned and executed
I would like to express my gratitude for all the efforts put forward by our teachers in the journey of the virtual school. The class each day is well planned and executed. Speech and Drama class, music session and Dance class are add-ons. Our teachers are full of patience irrespective of all the technical challenges they are facing. The flow of syllabus is beautiful. Being a part of Bloomingdales is really a pride for we as parents.
Innovative ways are used to teach
Very happy with efforts from school and teachers. Lot of innovative ways are used to teach the concept to children. Full week by different ways the concept is taught to children be it numbers or emotions. Thursday speak is also a great initiative.
Interactive Sessions
Talking to the teachers, telling them small small things like what he did over the weekend, watching videos, interactive sessions like when children give presentations, recite poems, etc. Perhaps we could have an online version of the recitation competition and other regular school activities as the children enjoy those.